EMSL @ AGU 2023
December 11 - 15, 2023
Research staff from the Environmental Molecular Sciences Laboratory (EMSL) will present talks, papers, and posters at the American Geophysical Fall Meeting, Dec. 11-15, 2023 in San Francisco, California. The event focuses on advancing Earth and space species. This year's theme focuses on open science. 
Stop by EMSL's Booth #515 during the AGU Fall Meeting week! You'll meet EMSL researchers, learn about upcoming proposal calls, and explore career opportunities. Booth visitors will receive TerraForms RhizoChips and pore-scale micromodels, which are used to study soil processes.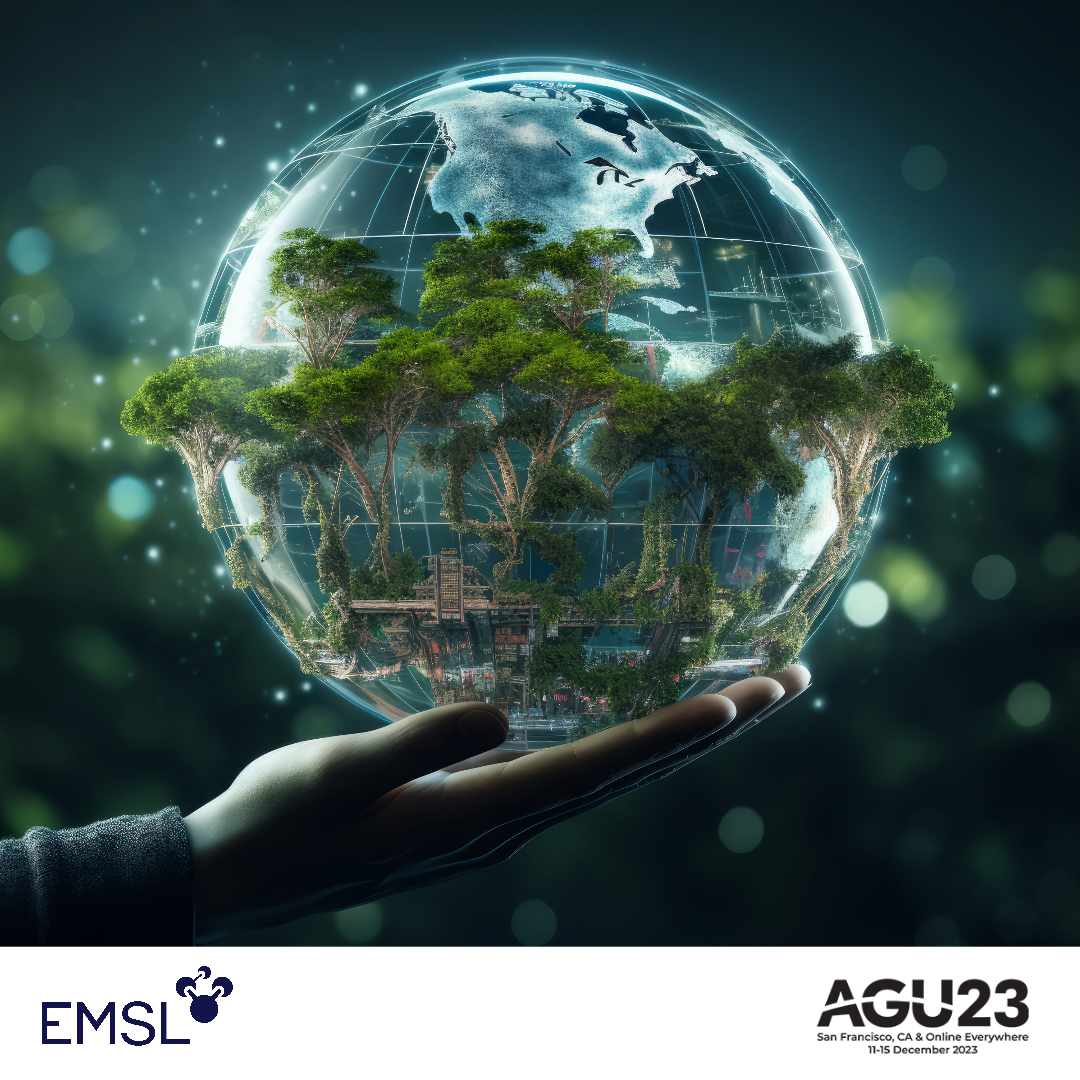 Monday, Dec. 11
Paper: Soil organic matter composition improves predictions of potential soil respiration across the continental United States (B12B-06)
Cheng Shi | Pacific Northwest National Laboratory
11:10 to 11:20 a.m.
3007 - West (Level 3, West, Moscone Center)
Paper: The Composition, Coordination, and Stability of Ca (Bicarbonate) Organic Associations in the Presence of Dissolving Calcite (B13J-2034)
Odeta Qafoku | Chemist 
2:10 to 5:30 p.m. PDT
Poster Hall A-C - South (Exhibition Level, South, Moscone Center)
Tuesday, December 12
Townhall: Accelerate Your Research by Leveraging the Power of Multiple Scientific User Facilities Through One Competitive Proposal: Learn About the Facilities Integrating Collaborations for User Science (FICUS) Program  (TH23L)
Linda Isakson | EMSL Communications Manager
Rolanda Jundt | Atmospheric Radiation Measurement user facility
Massie Ballon | Joint Genome Institute
1 to 2 p.m. PDT
2016 - West (Level 2, West, Moscone Center)
Paper: Imaging of Pore Networks and Anthropogenic CO2 Mineralization in Stacked Basalt Reservoirs (V23B-0160 3D)
Anil Krishna Battu | Materials Scientist
2:10 to 5:30 p.m. PDT
Poster Hall A-C - South (Exhibition Level, South, Moscone Center)
Wednesday, December 13
Paper: Using X-ray photoelectron spectroscopy (XPS) to characterize organo-mineral complexes in environmental and synthesized samples (B32A-04)
Qian Xiao | Earth Scientist
10:50 to 11 a.m. PDT)
3007 - West (Level 3, West, Moscone Center)
Paper: First year of the CONUS-Scale Molecular Observation Network (MONet) for Advanced Ecosystem Modeling ( B33J-2366)
John Bargar |  Environmental Transformations and Interactions Science Area Leader
2:10 to 5:30 p.m. PDT
Poster Hall A-C - South (Exhibition Level, South, Moscone Center)
Paper: Molecular Observation Network (MONet) Community Engagement and Data Accessibility (B33J-2371)
James Karroum | Post Masters Research Associate
2:10 to 5:30 p.m. PDT
Poster Hall A-C - South (Exhibition Level, South, Moscone Center)
Paper: Advancing Soil Aggregate Analysis: Integrating Imaging and Biogeochemical Characterization for 3D Insights (B33D-2265)
Odeta Qafoku | Chemist
2:10 to 5:30 p.m. PDT
Poster Hall A-C - South (Exhibition Level, South, Moscone Center)
Paper: Soil porous microstructure control over soil organic matter mobility: the case of two arid soils (B33D-2264)
Tamas Varga | Materials Scientist
2:10 to 5:30 PDT
Poster Hall A-C - South (Exhibition Level, South, Moscone Center)