Science Areas

Environmental Transformations and Interactions
Oxygenation of Iron-bearing Minerals Inhibits Extracellular Enzymes from Decomposing Soil Organic Matter
A new study shows the importance of understanding the link between redox-active minerals and extracellular enzymes in soils to better protect soil organic matter.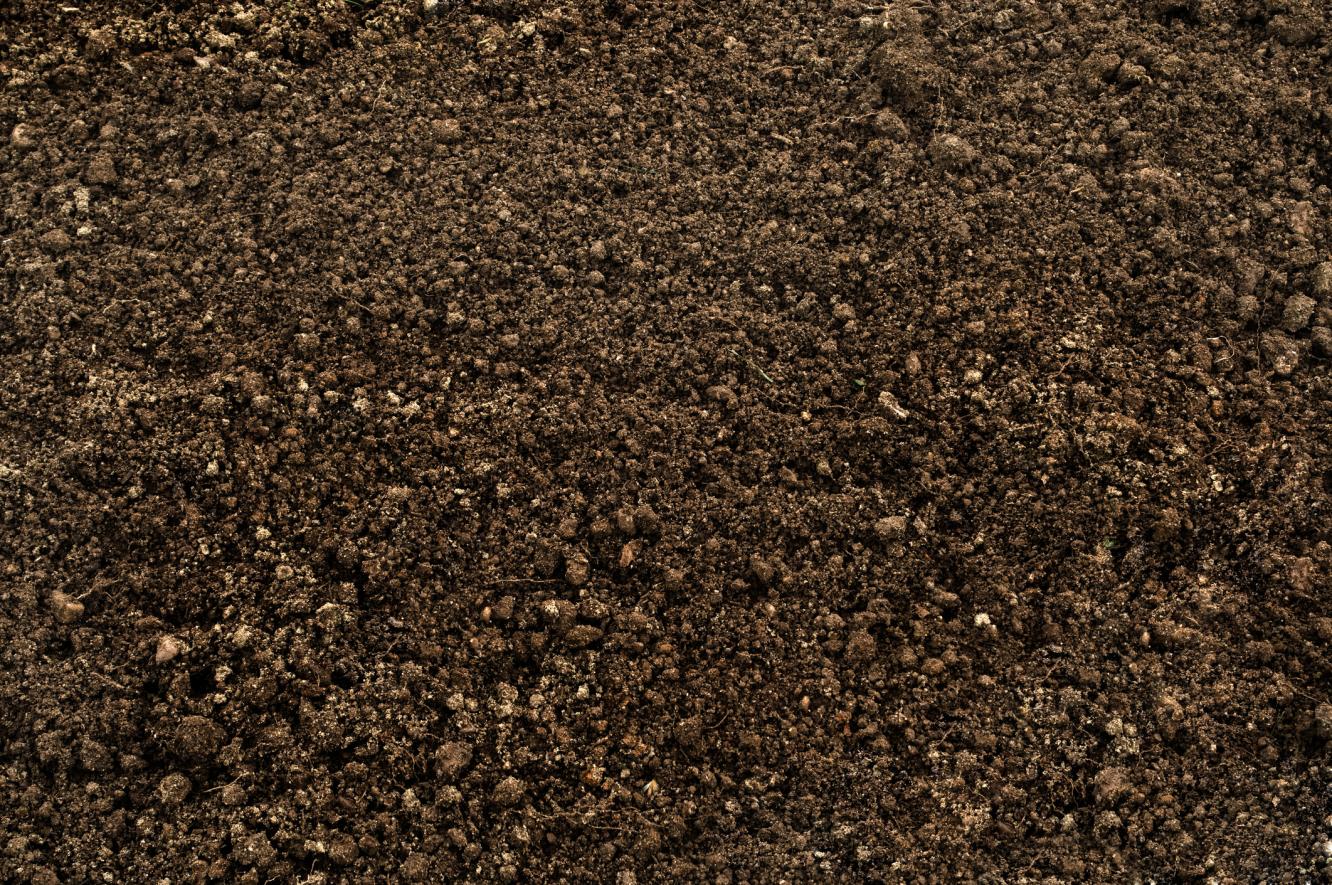 The Science
Enzymes that function outside cells—known as extracellular enzymes or exoenzymes—play critical roles in a variety of biological and chemical processes. Such processes include breaking down molecules that are too large to enter cells as-is (for example, the digestive process) and the role of bacteria and fungi in breaking down nutrients in the environment. In soils, exoenzymes are especially important for regulating carbon and nutrient cycles, but they are short-lived as free enzymes because they are highly sensitive to environmental conditions. A new study explored the effect on exoenzymes of molecules known as reactive oxygen species (ROS) and identified a previously unknown way in which exoenzymes can be deactivated through iron-bearing minerals.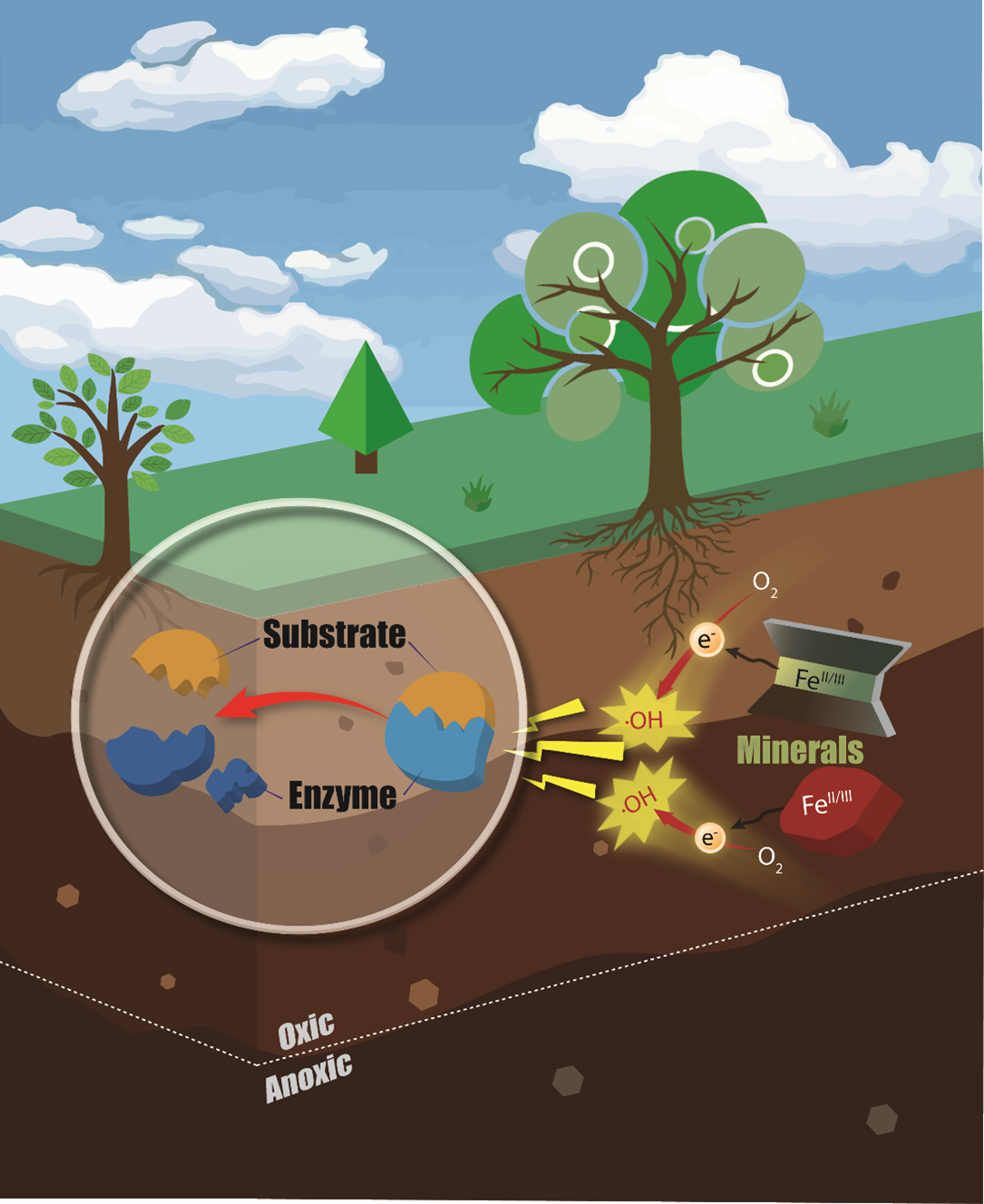 The Impact
Soil organic matter (SOM) plays a vital role in the global energy balance—not only does it protect soils from the potential negative impacts of things like sun, wind, and rain, but it is also the primary energy source for plants and other soil-dwelling organisms. Extracellular enzymes, or exozymes, are critical to maintaining healthy soils because they keep SOM levels in check—if exoenzymes become unbalanced, this could negatively affect SOM turnover globally. Key players here are minerals because they have the ability to adsorb exoenzymes, thereby regulating exoenzyme activity. Results from a new study by a multi-institutional team of researchers demonstrated that under conditions where oxygen is present, mineral-bound iron produces reactive oxygen species (ROS), which inhibit exoenzymes. Thus, this work emphasizes the importance of a mechanistic understanding of this process to better protect the global SOM balance.
Summary
The adsorption of enzymes onto mineral surfaces controls how minerals can both inhibit and foster exoenzyme activity in soils. When mineral-bound iron is oxygenated, it generates reactive oxygen species (ROS), but exactly how this affects exoenzymes is unclear. In this study, a multi-institutional team of researchers specifically explored the effect of mineral-bound iron oxidation on the enzyme beta-glucosidase, or β-glucosidase (BG). Two clay minerals containing iron—nontronite and montmorillonite—as well as an iron oxide (magnetite) were used at pH 5 and 7. Using a variety of analytical techniques—including Mössbauer spectroscopy capabilities at the Environmental Molecular Sciences Laboratory, a Department of Energy Office of Science user facility—the scientists found that BG adsorbed to mineral surfaces under anoxic conditions, which reduced its activity but increased its overall lifespan. Under oxic conditions, on the other hand, ROS was produced instead. Hydroxyl radical, which is the most common ROS, was positively correlated with how much iron oxidation occurred. The hydroxyl radical also inhibited BG activity and reduced its lifespan by directly degrading its structure. These results identify a previously unknown way in which exoenzymes can be deactivated, which is highly important for predicting the activity of exoenzyme pools in the environment.
Contacts
Hailiang Dong, China University of Geosciences, Beijing, dongh@cugb.edu.cn
Yizhi Sheng, China University of Geosciences, Beijing, shengyz@cugb.edu.cn
Ravi Kukkadapu, Environmental Molecular Sciences Laboratory, ravi.kukkadapu@pnnl.gov
Funding
Funding for this work was provided by grants from the National Science Foundation of China. A portion of this research was performed on a limited scope project award from the Environmental Molecular Sciences Laboratory, a DOE Office of Science User Facility sponsored by the Biological and Environmental Research program.
Publications
Y. Sheng, et al., "Inhibition of Extracellular Enzyme Activity by Reactive Oxygen Species upon Oxygenation of Reduced Iron-Bearing Minerals." Environmental Science & Technology 57(8), 3425–3433 (2023). [DOI: 10.1021/acs.est.2c09634]