Whole Orchard Recycling Provides Alternative to Biomass Burning
Current research explores nitrogen efficiency in soils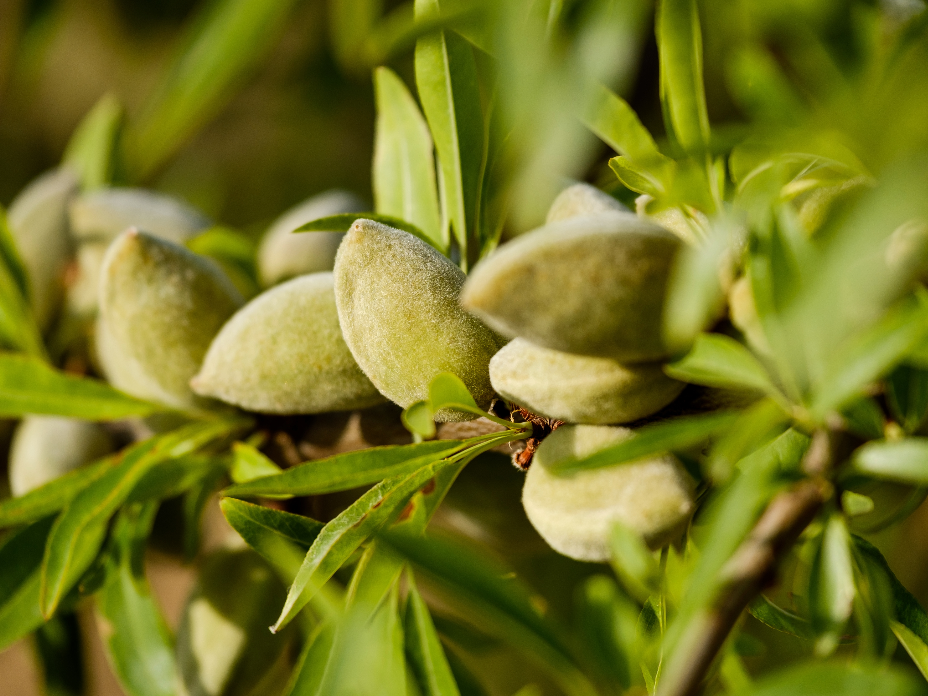 At the end of the productive life of an almond orchard, trees have traditionally been knocked down and burned to make way for the next grove of trees.
Although this has been the conventional practice, agricultural burning is becoming largely more restricted because of the effects on air quality.
With an estimated 1.2 million almond trees across the United States, finding an option that lessens the effects on climate change and air quality is a priority for researchers and farmers alike.
The potential answer? Whole orchard recycling.
In this process, trees are knocked down, ground into woodchips, and spread over a field until they're incorporated into the soil. Then a new orchard or other crops can be planted.
In a project led by principal investigator Amisha Poret-Peterson, researchers from the United States Department of Agriculture (USDA) and University of California Agriculture and Natural Resources are exploring the role and efficiency of microbial nitrogen in soils in whole orchard recycling. 
"We became interested in looking at nitrogen use efficiency because in the very early orchard recycling trials, we saw stunting of trees and it's because we added so much or we hypothesize that we've added a lot of carbon into the soil," explained Poret-Peterson, a research microbiologist with the USDA's Agricultural Research Service in Davis, California.
Poret-Peterson received Large-Scale Research funding to conduct research using instrumentation and resources at the Environmental Molecular Sciences Laboratory (EMSL), a Department of Energy user facility sponsored by the Biological and Environmental Research program. This research is designed to provide a mechanistic understanding of microbial processes involved in nutrient cycling and carbon sequestration in agricultural soil systems. Listen to Poret-Peterson explain whole orchard recycling and her research on the Bonding Over Science podcast.
The history of whole orchard recycling
Poret-Peterson's colleague and member of the EMSL project team, Brent Holtz, was raised on an almond ranch in Modesto, California. (California is the almond capital of the world.)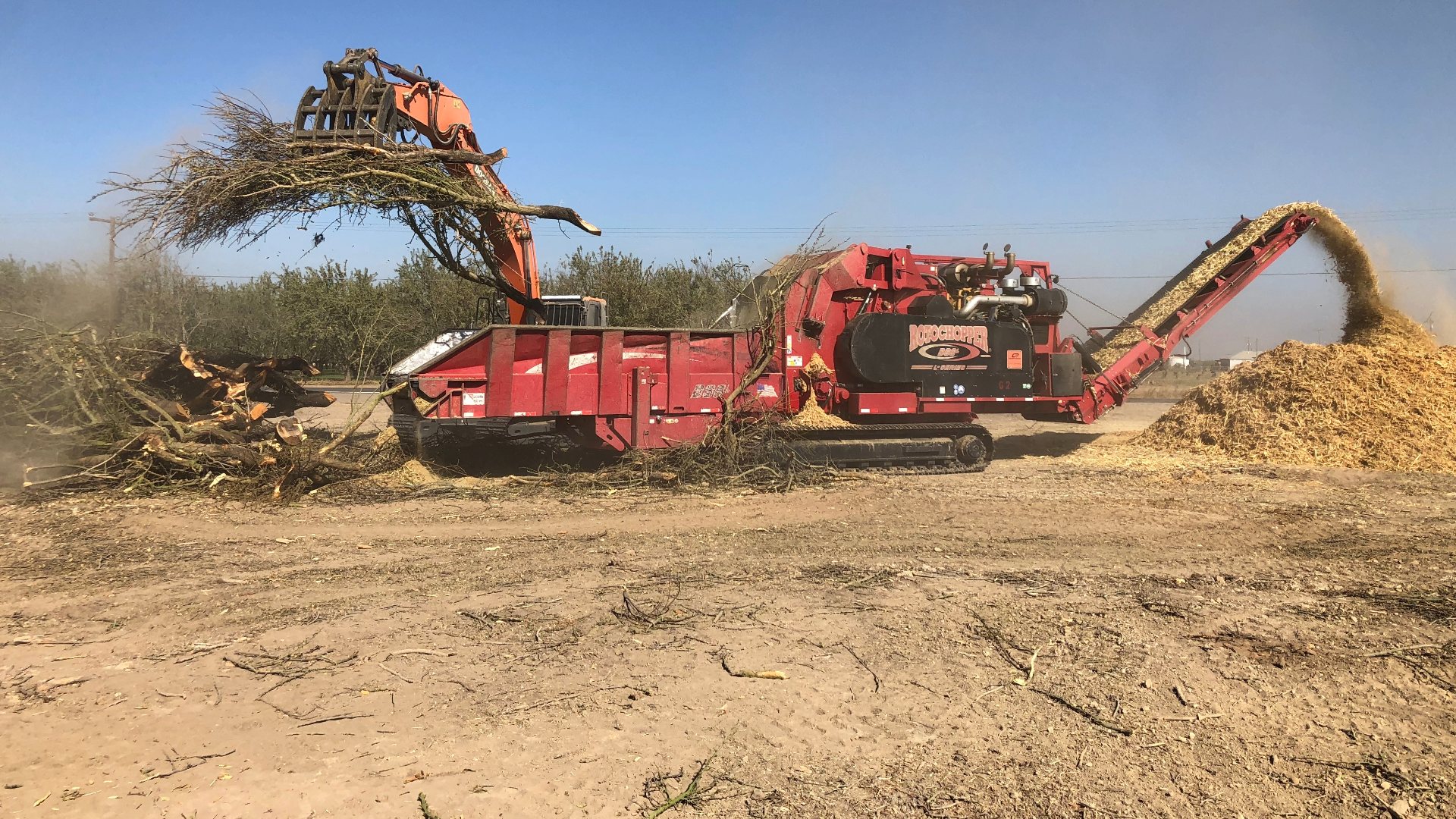 He saw firsthand on his family's farm how important controlling biomass, specifically smoke from burning trees, was to air quality. Drawing from his farming background, Holtz began to investigate options for reducing biomass burning. For the last 30 years, Holtz has worked at the University of California's Agriculture and Natural Resources, where he is now the San Joaquin County Director and Farm Advisor.
Holtz is regarded as one of the pioneers of whole orchard recycling, having started his research right in his backyard with a barrel trial. Since the early 2000s, Holtz has worked alongside farmers to find solutions and has led research into this process. In 2021, Holtz, Poret-Peterson, and several other researchers published a technical manual of recommended management practices for recarbonizing global soils, which included orchard recycling.
Thus far, Holtz and his fellow researchers have demonstrated that whole orchard recycling is an effective way to improve soil function and health, improve water retention, and reduce biomass that affects climate change and air quality.
Whole orchard recycling research at EMSL
Poret-Peterson and her research team are looking to test a hypothesis that biomass-amended soils will have a higher microbial nitrogen use efficiency than unamended soils.
Previous studies on greenhouse gas fluxes and soil nutrient dynamics have indicated a shift in the stability of organic matter in orchard recycled soils over time. However, the role of microorganisms in mediating greenhouse gas fluxes and in carbon and nitrogen transformations in recycled soils is not well understood.
Through this research, Poret-Peterson will use metabolomics and metatranscriptomics, as well as quantitative measurements of microbial nitrogen use efficiency, gross nitrogen mineralization rates, and nitrous oxide fluxes, to determine the molecular controls of microbial nitrogen uptake in recycled soils.
"We are looking at something called microbial nitrogen use efficiency," Poret-Peterson said. Like all organisms, microbes, us, we need nitrogen to grow. It's basically a parameter or measure that describes how much nitrogen is taken out by a microbe for growth versus that release to the environment. This is a parameter that basically can tell you about the stability of nitrogen in the soil."
The thought is that if nitrogen may be immobilized in the soil because of whole orchard recycling, nitrogen can be retained in the soil. If there is low nitrogen is soils, more will be released as organic nitrogen.
Poret-Peterson's research is a continuation of ongoing work at EMSL to label soil with isotopically enriched nitrogen and to track the uptake of the amino acids into metabolites using nuclear magnetic resonance. The team will use real-time mass spectrometry to observe the physical characteristics of the soils.
"I think for me, it's [an] opportunity to use resources and equipment that we just don't have access to at the USDA or at UC Davis and to work with scientists who really go above and beyond," Poret-Peterson said.