Atomic Force Microscopy provides dynamic three-dimensional topographic imaging of surfaces under environmental control with atomic to microscale resolution.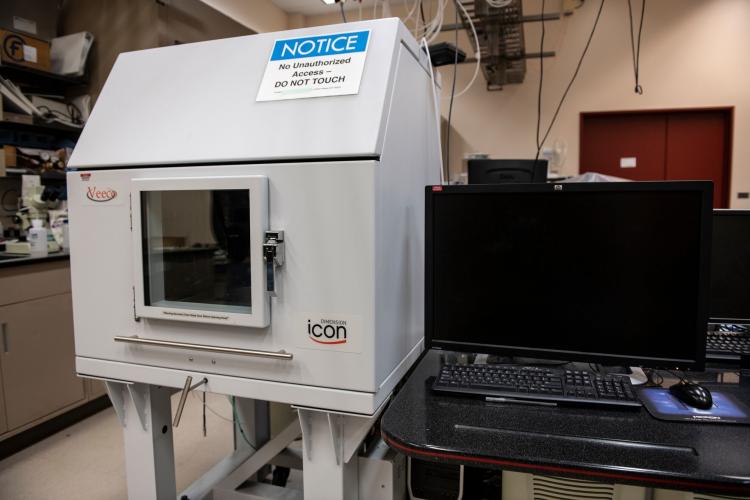 Research application
Supporting the Cell Signaling and Communications Integrated Research Platform, these resources can provide high-resolution in-situ imaging of cell morphology and cellular connections providing insight into how individual cells interact and communicate with each other.
Supporting the Biogeochemical Transformations Integrated Research Platform, these resources provide detailed insight into structure of mineral surfaces and the dynamic processes that occur on the surfaces of these minerals undergoing various biogeochemical transformations, such as nucleation, growth, dissolution, impurity incorporation, at the nanoscale.
Supporting the Structural Biology Integrated Research Platform, these resources provide dynamic three-dimensional details of molecular organization providing insight into the assembly of protein complexes. These resources can also measure the interaction forces occurring between various biomolecules, including antigen-antibody and enzyme-substrate interactions, or between biomolecules and surfaces.
Available instruments
EMSL's Geochemistry Atomic Force Microscope (AFM) is able to measure the structural, topographic, electrical, and magnetic properties of a wide range of minerals or other solid or biological surfaces, under controlled environmental conditions. Imaging under dynamic conditions while surfaces are undergoing chemical reaction or under influence from other processes can provide detailed insight into these processes occurring at the nanoscale. The Geochemistry AFM has the following imaging modes: contact, intermittent contact, phase imaging, magnetic force microscopy, electric force microscopy, surface potential microscopy, scanning capacitance microscopy, scanning spreading resistance microscopy, tunneling AFM, torsional resonance tunneling AFM, and conductive AFM.
The Dynamic Force Atomic Force Microscope (Asylum) has similar capabilities to the Geochemical AFM but specializes in measuring the interaction forces between the AFM probe and surfaces. Through functionalization of the AFM probe or surface through the binding of proteins, organic molecules, and cells, interaction and or binding forces can be measured. These can provide details on the strength of interaction between biomolecules and various surfaces, such as those between antigen-antibodies or between enzymes-solid substrates.
Tips for success
Samples must have an over-all roughness no greater than 10mm over the area to be probed. The maximum scan size for the instrument is approximately 90mm × 90mm, but the actual lateral dimensions of the sample can be much larger (many centimeters). Larger areas can be imaged through image stitching. The maximum height of the sample is 1.5cm.
The AFM has multiple sample environments. It can image in ambient conditions and can be fitted with a sample heating and cooling stage with a range of at least -30°C to 200°C. A fluid cell enables the ability to image surfaces in liquids with controlled flow and solution composition.
Surface adsorbates should not be easily displaced under the AFM probe to assure stable imaging.