EMSL houses two instruments for measuring the quantities of Carbon, Nitrogen, Hydrogen, Sulfur, and Oxygen in solid or liquid samples: a CHNS/O analyzer and a Total Organic Carbon (TOC) and bound Total Nitrogen (TOC/TNb) analyzer. The CHNS/O analyzer operates in two modes: one mode for the simultaneous analysis of CHNS and a separate mode for the analysis of O within a sample. The TOC/TNb analyzer offers EMSL users the option of analyzing a sample for TOC only or TOC in addition to TNb. Both analyzers offer elemental analysis application opportunities in soil, sediment, and water environmental research areas of study, among others.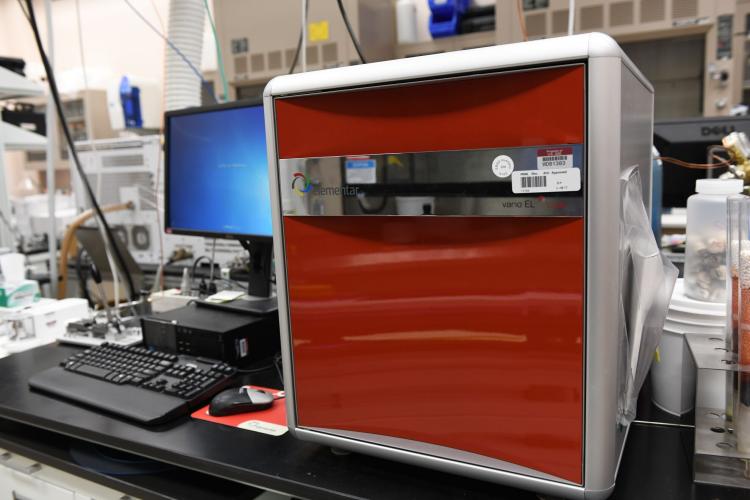 Research application
Available Instruments
CHNS/O Analyzer: Elementar VarioEL Cube
TOC/TNb Analyzer: Elementar VarioTOC Cube
Tips for success
The amount of sample needed to perform a CHNS measurement is dependent on the amount present of the elements of interest. Contact us to discuss your samples.
The amount of sample TOC/TNb analysis is 10 ml. However, analysis can be done with less volume depending on the sample concentration. Contact us to discuss your samples.
EMSL has the necessary sample preparation support items for these instruments, including auto pipettes, a micro balance, nanopure water, and numerous calibration standards. All work with these instruments, within EMSL, must be performed in compliance with EMSL practices and permits.
EMSL users may use these instruments independently for their research following the necessary training.