Cell-Free Expression Pipeline
The Cell-Free Expression (CFE) Pipeline is a versatile protein synthesis platform for structural biology and functional annotation applications. It provides fast access to proteins or heteromeric complexes of interest. It has been tested in-house on many proteins of different origin (bacterial, algal, fungal, plant and human). It is suitable for expression of toxic proteins, very large proteins up to 200 kDa, soluble and membrane proteins, and protein heterocomplexes by co-expression. The system is compatible with additives, such as unnatural amino acids, micelles, nanodiscs, metals, and many other metabolites and cofactors.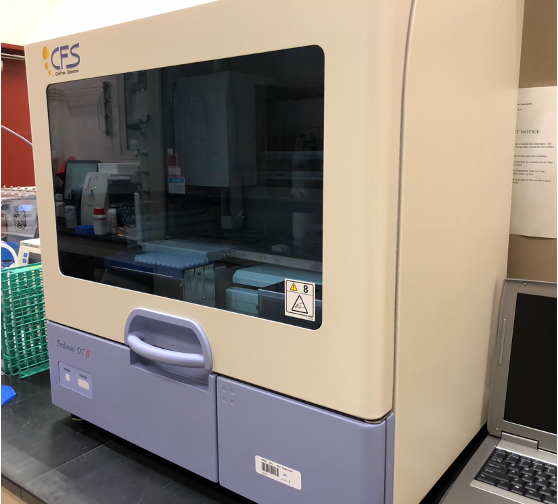 Research application
Supporting the Structural Biology Integrated Research Platform, this resource generates protein material for downstream structural and functional characterization. Cell-free synthesized proteins or protein complexes are compatible with our single-particle cryo-EM (Krios Cryo-TEM) and Native MS (Thermo Q-Exactive UHMR mass spectrometer) resources at EMSL.
Available Instruments
Protemist DT II robotic protein synthesizer
Wheat germ-based cell-free protein synthesis.
Starts with expression vector and gene of interest, then performs transcription and translation in test-tube with automated batch affinity purification optional.
MIDI scale format: Up to 24 proteins can be synthesized in parallel without purification. The protein products remain in crude protein extract. Ideal for functional characterization and annotation.
MAXI scale format: Up to six purified proteins can be synthesized simultaneously. Ideal for structural biology applications.
Tips for success
Minimum requirement: Provide the amino acid sequence information for the protein to be expressed. A custom synthesized clone of the sequence can be generated by EMSL staff.
Although not required, the fastest results possible are attained when a user can provide a clone of the gene of interest already in compatible pEU vector for the CFE Pipeline. Possible methods for user generation of clone are via Genscript gene synthesis services, JGI DNA synthesis user proposal, direct sub-cloning, etc.
DNA/RNA binding proteins are compatible with the CFE Pipeline but are more challenging and can limit overall yield in the MAXI format.
Membrane proteins can be expressed and purified with the CFE Pipeline within liposomes, nanodiscs, or in the presence of amphiphiles like DMNG or LMNG.
Anticipated yields of approximately 0.5 mg/well (MAXI format) or 0.1 mg/well (MIDI format) of crude protein synthesis. Purification yields may be significantly lower due to presence of RNA/DNA or solubility additives or the accessibility of affinity tags.