Coherent Anti-Stokes Raman Scattering and Stimulated Raman
Inverted scanning confocal microscope equipped for chemical and biological imaging. Label-based, label-free, and time-resolved imaging of cellular and subcellular dynamics possible in biosystems ranging from unicellular microbes to filamentous fungi and plant root/microbe interactions.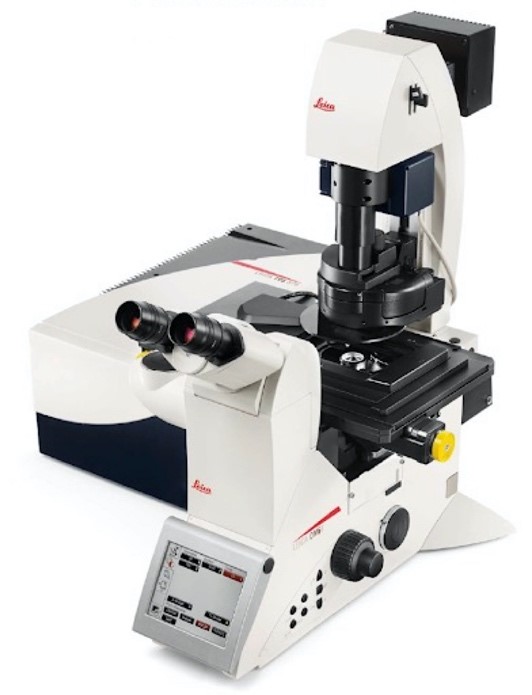 Research application
The CARS/SRS microscope allows for label-free imaging of subcellular organization and dynamics. No staining of the specimen is needed as CARS/SRS image contrast is provided by the characteristic and intrinsic vibrational states of the different molecules in the specimen. Label-based imaging with fluorophores or dyes is also possible, making this instrument powerful for multimodal chemical imaging. Specifically, the CARS/SRS instrument can visualize the subcellular morphology, distribution, and dynamics of individual cells and their interactions with other cells within a tissue or complex biosystem community. This resource supports the Structural Biology, Rhizosphere Function and Cell Signaling and Communications Integrated Research Platforms by providing correlative or direct imaging of live specimens that is synergistic to other optical, ion, and electron microscopy approaches.
Compatible science samples:
Biosystems in normal and environmentally stressed conditions
Unicellular and filamentous organisms, cell cultures, and biofilms
Plant-microbe-fungi (rhizosphere) interactions under different environmental conditions
Host-viral/phage interactions
Available Instrument and Support Equipment
Leica SP8 Inverted Confocal Microscope with Picoemerald S for picosecond CARS/SRS
Label-free chemical imaging of native specimens without dyes, stains, or fluorescent labeling.
Multimodal imaging methods, such as CARS, SRS, single photon or multiphoton fluorescence, or imaging with infrared, visible, and ultraviolet lasers in simultaneous or sequential mode.
One system for both single time-point high-resolution imaging and time-resolved imaging in controlled environments.
Multiple magnification (5x to 100x) and immersion options (dry, water, oil) allows customizing imaging conditions for each sample.
Automated stage for high-content screening using a matrix screening module that can be customized for each experiment.
Integrated with a PicoEmeraldS (APE GmbH, Germany) tunable optical parametric oscillator, and 1031-nm laser source with 2.5-ps pulses for multiphoton and CARS imaging (reflected mode).
PicoEmeraldS electro-optical modulator, lock-in amplifier, and 10 × 10 mm photodiode for SRS detection in transmitted mode.
Thermoluminescent dosimeters, photomultiplier tubes, and hybrid detectors capture the signal in a customizable arrangement.
Tips for success
Critical aspects of sample preparation include
Can image many systems, including bacteria, archaea, algae, fungi, plants, plant/microbe interactions, nanoparticle solutions, polymers, and more.
Time-resolved imaging of cells in controlled environments is possible either by simply trapping the cells between glass slide and coverslip in media of interest or using an array of microfluidic or nanowell devices. However, use of such larger devices requires use of longer working distance objectives and condenser lenses that may have lower numerical aperture rating and, therefore, lower achievable resolution.
Resolution for this system is diffraction limited, with highest NA objective/condenser combination.
Existing excitation sources on the system include 405-, 488-, 552-, and 638-nm continuous wave lasers and pulsed OPO with tunable wavelengths from 700 to 900 nm.
CARS/SRS imaging is concentration-dependent and based on chemical bond signatures. Imaging of rare moieties can require high pump and stokes beam flux, which can photodamage the sample. Imaging of lipid bodies and carotenoids or other metabolites at high concentration in the cell is most common application.