Environmental Scanning Electron Microscopy for Atmospheric Research
EMSL's environmental scanning electron microscope, or ESEM, offers a variety of detectors and an integrated custom-built platform for atmospheric research.
For single-particle analysis, the microscope is controlled by a computer and is coupled with energy dispersive X-ray spectroscopy (CCSEM/EDX). This provides elemental composition of thousands of individual particles from each sample. This platform is used to characterize atmospheric particles to understand atmospheric chemistry.
For fundamental studies of ice formation, EMSL has a custom-built ice nucleation platform that interfaces with the microscope (IN-SEM). It operates at temperatures and relative humidity needed for heterogeneous ice nucleation. This platform allows for dynamic observation of individual ice formation events and provides characteristics of ice nucleating particles.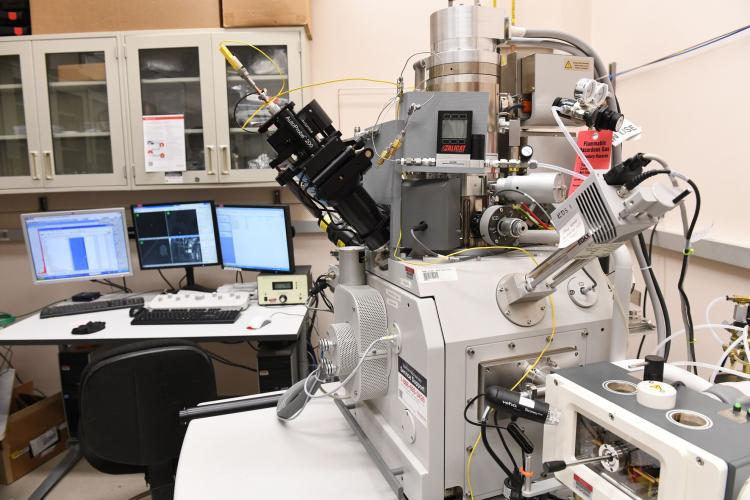 Research application
These resources support the Terrestrial-Atmosphere Processes Integrated Research Platform.
CCSEM/EDX provides size-resolved chemical composition of individual particles.
CCSEM/EDX and ESEM platform provides hygroscopic growth of individual particles at different temperature and humidity and their chemical composition.
IN-ESEM facilitates direct observation of ice formation on individual aerosol particle.
Combination of CCSEM/EDX and IN-ESEM platform provides characterization of ice nucleating particles and particle population.
Tips for success
To use the CCSEM/EDX you must book the Quanta ESEM.
Typically, TEM grids (B-films) are the most suitable substrates for CCSEM/EDX analysis.
Silicon wafer substrates coated with a silicon nitride film or silicon nitride windows are suitable for ice nucleation studies.