Environmental Transmission Electron Microscopy
The environmental transmission electron microscope (ETEM) is a Cs-corrected field emission gun transmission electron microscope (TEM) equipped with an environmental cell infrastructure for controlled gas inlet into the sample/holder area. The instrument is equipped with CEOS GmbH double-hexapole aberration corrector (CETCOR) for image forming lens, which allows imaging with sub-0.1-nm resolution in conventional phase contrast imaging mode. The instrument allows introduction of gaseous environments—up to 20 mbars for selected gases. The gases are transferred into the instrument via a custom-built delivery system. Permanently connected gases include N2, He, Ar, O2, H2O, H2, CO, CO2, CH4. The microscope is equipped with charge-coupled device camera (Gatan UltraScan1000 2k x 2k) for imaging. For acquisition in scanning TEM imaging mode, the instrument is equipped with high-angle annular dark-field detector (Fishione) and annular dark field, bright-field detectors (FEI). For elemental analysis, the instrument is equipped with EDAX Si(Li) detector, collection angle (less than 0.1 srad). The ETEM is used for conventional as well as in situ studies of biological, aerosol, catalyst, geochemistry, energy, and structural materials, to name a few examples. The microscope allows use of in situ holders for cryogenic (down to -170°C) and high temperature (25–1100°C) studies.
Watch this video to learn how the ETEM can accelerate your research.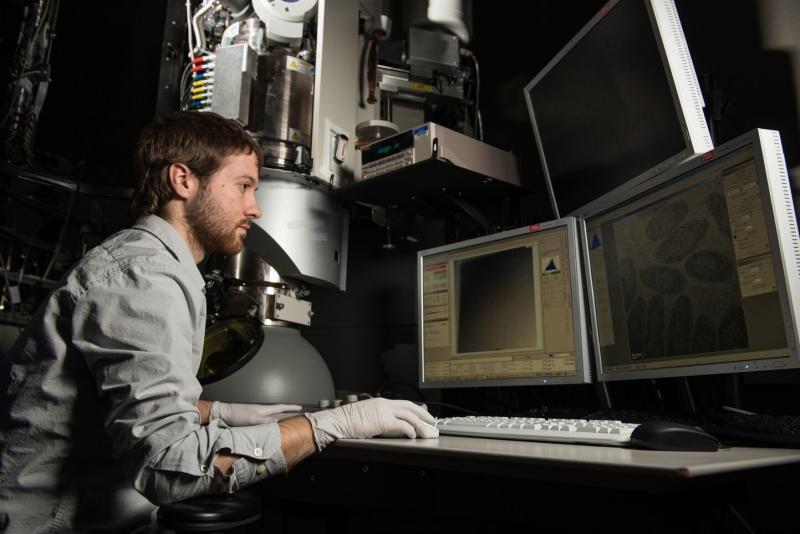 Research application
Supporting the Biogeochemical Transformations Integrated Research Platform, this resource enables researchers to study the morphology, structure, and chemistry of soils, as well as the biogeochemistry of environmental samples down to the atomic level. Crystallographic analysis of soil minerals can be performed either by atomic level imaging or by selected area diffraction. ETEM also enables detection of trace elements and mapping of their spatial distribution. Dynamics of solid-gas interface interactions can be tracked under cryogenic and/or high temperatures.
Supporting the Terrestrial-Atmosphere Processes Integrated Research Platform, this resource supports studies of aerosols, organic-mineral interactions, and general soft-hard materials interfaces—also down to the atomic scale. It provides the capability to track evolution of aerosols under realistic cryogenic or high-temperature conditions in the presence of atmospheric gasses.
Supporting the Structural Biology Integrated Research Platform, this resource provides aberration-corrected high-resolution imaging of cellular ultrastructure, as well as tomographic imaging (of whole cells), cryogenic imaging, and microED for structural determination.
Tips for success
Plasma-clean holders before each use to remove any residual hydrocarbons.
During imaging, users should minimize electron beam exposure to the samples to avoid imaging artifacts.
Select appropriate accelerating voltage (80–300 kV) to minimize beam damage to the samples.