Non-invasive Automated Root Imager
EMSL's Non-invasive Automated Root Imager (NARI) is used for phenotyping root traits by rapid acquisition of high-quality images of plants grown in transparent (gel-based) growth medium. The system consists of a machine vision camera, optical correction tank, near infrared LED backlight, and a turntable mounted on a custom-built table. Multiple digital images in two-dimension are automatically generated while plants in glass cylinders rotate on the turntable. The system generates 36 images (every 10o) or 72 images (every 5o) representing 360o in 10 minutes per sample. The platform is semi high-throughput and is ideally suited for EMSL users aiming to understand the genetic control of root architecture. The images can help process and monitor several root system architecture parameters, including root width, depth, volume, surface area, and total length.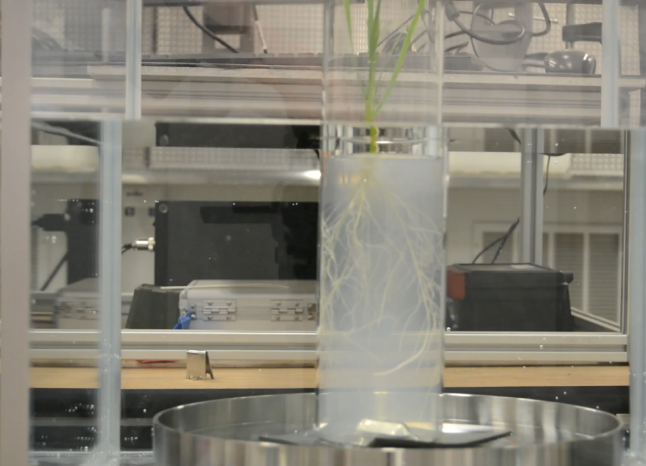 Research application
Supporting the Rhizosphere Function Integrated Research Platform, the NARI system contributes to the goal of identifying genes underlying root system architecture, and bridging the gap between genotype and phenotype, enabling advances in crop productivity.
Tips for Success
Users can ship plant seeds or cuttings to EMSL. We will grow and maintain plants in appropriate growth medium under controlled condition in growth chambers for root imaging. EMSL users should contact EMSL staffs for details on the imaging frequency, plant species and root traits of interest, and possible requested adjustments or modifications to the system.