Single Particle Mass Spectrometry
A one-of-a-kind single particle mass spectrometer, miniSPLAT, is used to characterize in situ and real-time physicochemical properties of individual particles, with unparalleled sensitivity, sizing precision, mass-spectral quality, and temporal resolution. Its analytical capabilities are extended far beyond the basic measurements of particle size and composition. Our researchers have transformed it into a comprehensive quantitative tool that can simultaneously measure a multitude of key individual particles properties. At present, miniSPLAT provides information on
particle number concentrations
size
chemical composition
mass
density
porosity or void fraction
morphology
shape (aspherisity, asymmetry, dynamic shape factors, fractal dimension)
phase, viscosity, chemical diffusivity
interactions with water vapor (hygroscopicity, activation as cloud condensation and ice nuclei)
evaporation kinetics and volatility
rates of multiphase reactions as a function of particle size.
MiniSPLAT is compact, robust, and portable, and it can be deployed in the laboratory and in the field, including on-board aircraft. It is used to characterize atmospheric aerosols, nanoparticles, engine exhaust particulate, bioaerosols, soils, and particles generated by high-energy explosives.
To take advantage of the vast amount of multidimensional single particle data generated by miniSPLAT, and analyze these data in the context of measurements acquired by other aerosol, gas-phase, and cloud instruments, researchers developed novel approaches for interactive and intuitive data visualization, classification, and analysis, including
visualization expert-driven classification software (ClusterSculptor)
data mining and visualization software (SpectraMiner)
interactive, visual analytics software (ND-Scope).
This suite of tools was specifically designed to explore millions of single-particle mass spectra, study their size- and shape-dependent properties and behavior, discover correlations, and uncover causal relationships between particle properties and other observables.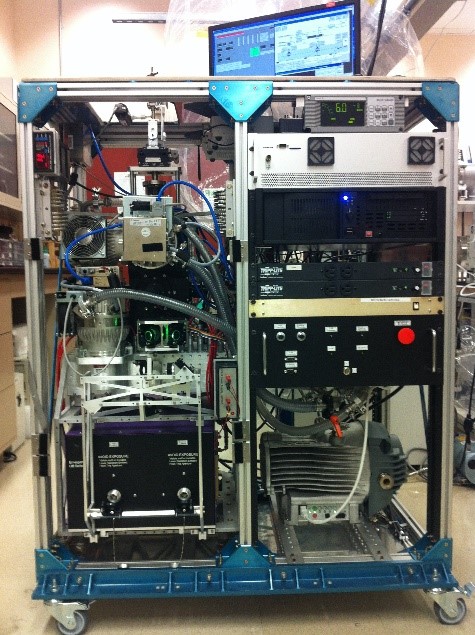 Research application
MiniSPLAT supports EMSL's Terrestrial-Atmosphere Integrated Research Platform by investigating processes relevant to biosphere-atmosphere interactions that control the atmospheric aerosol lifecycle. This includes aerosol formation and growth, chemical and physical transformations, and aerosol removal processes. The instrument benefits atmospheric research by providing information on the rapidly evolving composition, size distributions, microphysical, optical, and cloud-nucleating properties of atmospheric aerosol particles, their spatial distributions, and seasonal and diurnal variations—all of which are critical for understanding and predicting how aerosols directly and indirectly affect climate.
Tips for success
Users can supply samples in the form of dry powders, solutions, or particle suspensions. These samples are aerosolized using a powder dispersion generator, atomizers, nebulizers, or an electrospray particle generator.
Particles can be generated in situ using a variety of methods that include 1) gas-to-particle conversion during oxidation reactions in Teflon chambers or a flow tube reactor, 2) tube furnace, 3) spark discharge generator, and 4) combustion aerosol generator.
The laboratory is also equipped with an inlet for ambient atmospheric particles for real-time characterization and collection for offline analysis.