Super Resolution Fluorescence Microscope
Super resolution fluorescence microscopy enables single cell characterization and analyses of cell-cell and cell-environment interactions and in-situ cellular processes—all of which strengthen our fundamental understanding of systems biology, functional genomics, and biochemistry. The instrument is based on a Zeiss inverted fluorescence microscope and features additional custom components built in-house. This microscope achieves its high spatial resolution by computationally localizing single molecules based on the methodology of Stochastic Optical Reconstruction Microscopy (STORM) and Photoactivated Localization Microscopy (PALM).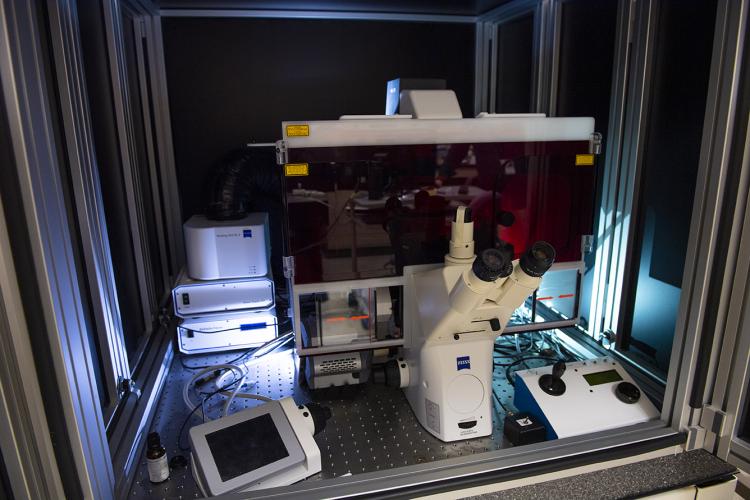 Research application 
STORM/PALM supports the Cell Signaling and Communications Integrated Research Platform by revealing subcellular structures of intact cells in nanometer level spatial resolution. This capability helps researchers overcome the diffraction limit of light to observe molecular and cellular processes in action and in detail. In addition, through single-molecule fluorescence in situ hybridization and immuno-chemistry or fluorescent proteins, researchers can perform quantitative analyses of transcripts, proteins, and metabolites in individual cells within communities or tissues.
Available Instruments
Tips for success
Samples require photo-switching dyes or fluorescent proteins. When preparing samples, the fluorophores should match the wavelength of lasers in order to obtain an optimum signal.
Sample specimen should either be transferable to, or grown on, 0.17 mm thick glass coverslips (or glass coverslip bottom dishes).