Top-down (Intact) Proteomics
Proteins are critical structural and functional components of biological organisms. A single gene may produce many different molecular forms of proteins via post-transcriptional, post-translational modifications or noncovalent complex formation with other molecules. New advances in mass-spectrometry-based proteomics have enabled direct analysis of intact proteins and native protein complexes. While the more conventional proteomics approaches study proteins "bottom-up" by measuring small peptide fragments, these techniques offer a "top-down" view of proteins at the intact level, allowing us to better understand their structures and functions.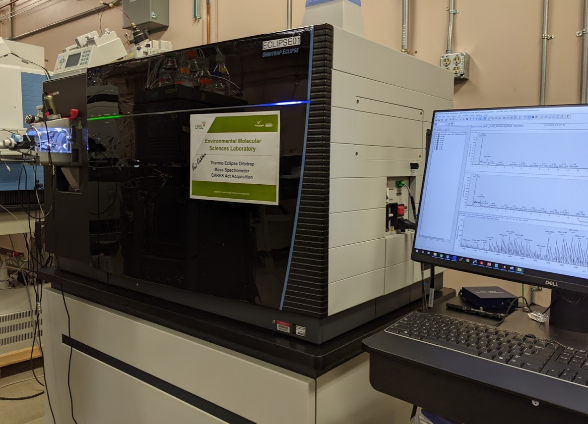 Research application
Supporting the Structural Biology Integrated Research Platform, these resources can measure stoichiometry of protein-protein, protein-nucleic acid, protein-ligand, and protein-metal complexes. The information will help us better understand protein structure and function, including heterogenous and dynamic protein assemblies.
Supporting the Biomolecular Pathways Integrated Research Platform, these resources can precisely define "proteoforms" at the intact protein level—combinations of post-translational modifications and in vivo proteolytic cleavages.
Available instruments
Thermo Orbitrap UHMR
Waters Synapt G2s-I Ion Mobility Time-of-flight
Thermo Orbitrap Eclipse Tribrid
Thermo Orbitrap Fusion Lumos
Available software
IsoForma tool for automated quantification of isomeric proteoforms
PSpecteR application tool and R package for annotation of fragmentation patterns
Tips for success
Current technology is best suited for targeted analysis on enriched, purified, or recombinant protein samples. New technologies and instrumentation are also being actively developed for more complex samples; please contact your EMSL science point of contact for details.