User Satisfaction Survey Results
Results from the Fiscal Year 2020 EMSL User Survey show a high level of user satisfaction, in spite of the challenges imposed by the global COVID-19 pandemic. Due to the pandemic, EMSL remained closed to on-site user access for six months of the year and was still not open for on-site user access in September 2020, when the survey was issued. Nevertheless, user satisfaction levels remained above 90% in all areas addressed by the survey questions, as seen below.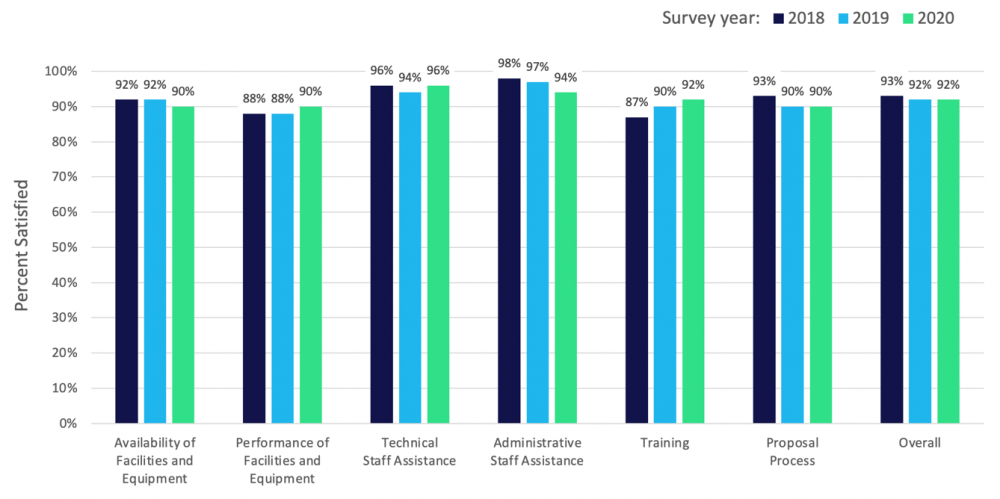 Understandably, one area where user satisfaction was lower than the previous year is in the availability of facilities and equipment. The comments provided by users reveal that the lab shutdown for COVID-19 was the underlying cause of all user complaints in this area.
More surprising was the slight decrease in user satisfaction in the area of administrative staff support. The apparent cause of this decrease is that more users selected "neither satisfied or dissatisfied" for this survey question than in previous years, given that they hadn't been able to visit EMSL and thus hadn't interacted with administrative staff. Given that the total "percent satisfied" is calculated as the percentage of respondents who selected "satisfied" or "very satisfied", the neutral responses serve to lower the overall satisfaction score.
While we are pleased to see that the majority of EMSL users were satisfied in FY2020, we take note of those who were not satisfied and will carefully consider their feedback. As mentioned above, many user projects were interrupted or delayed due to the lab shutdown, and the majority of critical or negative user comments were related to the impacts of COVID-19. However, four users also reported problems with instrument availability due to instruments being down or overbooked and another four mentioned slow turnaround time for receiving their data. Representative comments on these topics are:
Instrument was down
Staff and equipment overbooked
We continually strive to keep all instruments operational and engage in a careful allocation process to avoid overbooking. We appreciate that it is incredibly frustrating for a user when they cannot access the tools they need.
Regarding the performance of EMSL staff, feedback from users was overwhelmingly positive, with at least 17 users leaving comments like:
The people I have had the opportunity to work with are just terrific.
Team lead has been great to work with. EMSL's model is unique and a strength: being able to engage with a project host who is directly involved with the work has made things much more efficient and effective.
EMSL staff have been incredibly helpful, extending deadlines when needed, providing work arounds, updating software. I could not have been happier.
Staff communication was frequently cited as a source of satisfaction, though two users had critical feedback on this topic, noting a "lack of continuity in communication" or not being informed of the status of a proposal. We recognize the importance of communication in facilitating user projects and hope that the introduction of two project managers on the User Services team will further reduce the small number of communication problems reported.
The proposal submission and management processes received five critical comments, many of them constructive, such as:
It is hard to know how much time or what instrument to request.
Found the portal submission process cumbersome.
One time we submitted right before the deadline and were pushed back a month because of a glitch.
An equal number of respondents praised the proposal submission process and the flexibility in project administration. We are very receptive to critical feedback on these processes, however, and are continuing to streamline them through the introduction of the new NEXUS user portal in March 2021.
Thank you to everyone who responded to the FY2020 User Satisfaction Survey. Please continue to let us know what is working and what isn't, both through the annual surveys and in direct communications to User Services or other staff contacts.